Delaware Union Soccer Club Announces Hiring of Anthony Allison to lead the 2012 Boys Select team in 2023-2024 Season
FOR IMMEDIATE RELEASE
Delaware Union Soccer Club Hires Anthony Allison as Head Coach for 2012 Select Boys Team
Middletown, DE - Delaware Union Soccer Club is excited to announce the hiring of Anthony Allison as the Head Coach for the 2012 Select Boys Team. With his extensive coaching experience and passion for the sport, Anthony is an excellent addition to the Club and will continue to drive success for the highly talented team.
Born in Liberia and moved to Philadelphia at 15, Anthony Allison is a former standout soccer player who attended Overbrook High School and played club soccer for Junior Lone Star FC. He then went on to play college soccer at Wilmington University, where he was named the CACC Rookie of the Year and received All CACC 1st Team and NSCAA All Region 2nd Team honors for four consecutive years in 2006, 2007, 2008, and 2009.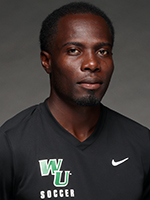 Allison's impressive college career culminated in a string of awards, including CACC Player of the Year, East Regional Player of the Year, 1st Team All CACC, NSCAA All-Region First Team, Daktronics 1st Team All Region, and 1st Team All American honors. Over the course of his college career, Allison tallied an impressive 56 goals and 26 assists in 72 games for the Wildcats.
After going undrafted out of college, Allison turned professional in 2010, signing with the Puerto Rico Islanders of the USSF D2 Pro League. He made his professional debut on April 16, 2010, in a 2010 CFU Club Championship game against Haitian side Racing des Gonaïves. In 2011 and 2012, Allison played for successful Swedish clubs in the fifth and fourth-tiers before signing with Umeå FC, a third-tier club, in March 2013.
In addition to his playing experience, Anthony is a US Soccer D license holder and has been coaching since the age of 13. He has coached youth teams in Sweden and the United States, and his coaching philosophy is centered on the day-to-day improvement of his players. Anthony believes that watching youth players improve and make adult-like decisions on the field is one of the most beautiful aspects of coaching.
"We are thrilled to have Anthony as our Head Coach for the 2012 Select Boys Team," said the Technical Director, Nick Papanicolas. "His experience, passion, and coaching philosophy align perfectly with our Club's values, and we are confident that he will help our players grow both on and off the field."
"Anthony's coaching experience, combined with his playing background, will be a tremendous asset to the Delaware Union Soccer Club" said the Club President, Jeff Martino. "The Club is excited to have him on board and looks forward to seeing the positive impact he will have on Delaware Union and the 2012 Select Boys Team."
For more information about Delaware Union Soccer Club, visit www.delawareunion.com.
For More Information Contact:
Gaylord C. Neal III, PhD
Board Member | Manager, Fundraising & Sponsorships
About Delaware Union Soccer Club:
Delaware Union
Soccer Club is a premier soccer organization located in New Castle, Delaware.
The club is dedicated to providing a positive and challenging soccer experience
for players of all ages and skill levels, while promoting the values of teamwork, sportsmanship, and community involvement.
---
More News / Blog